Merhabalar,
23 Şubat Perşembe 13:40-14:30 saatleri arasında Teknopark Kompozit Araştırma Merkezinde,Recep M.Görgülüarslan "Additively Manufactured Lattice Structures" başlıklı seminer verecektir.
Sabancı Üniversitesi -Teknopark Gidiş
Araç Hareket Saati : 13:15
Araç Hareket Alanı : Sunum Binası Önü


Teknopark- Sabancı Üniversitesi

Araç Hareket Saati : 15:00
Araç Hareket Alanı : KTMM Binası Önü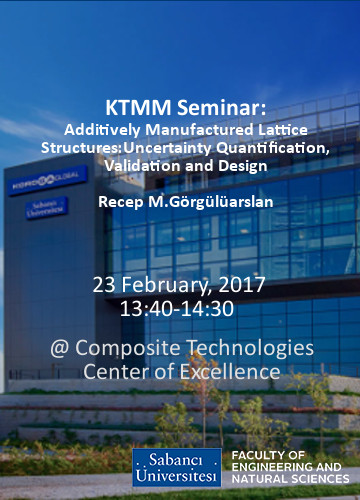 Speaker: Recep M.Görgülüarslan
Title: Additively Manufactured Lattice Structures
Date/Time: Thursday, February 23, 2017 13:40 – 14:30
Place: Teknopark- KTMM
Abstract:
Cellular lattice structures (CLSs) gained interest recently in designing lightweight engineering applications. These lattice structures have a network of interconnected strut members which can be fabricated with the recent advancements in additive manufacturing (AM) techniques. However, uncertainties are introduced by the AM processes to the fabricated strut members of CLSs. These fine scale uncertainties influence the overall product performance resulting in inaccurate predictions of reality and increased complexity in the computational models used for designing the CLSs. In this talk, recent advances in the design of CLSs for additive manufacturing will be presented and discussed. Then, a multi-level upscaling and validation framework, which is established to enable accurate estimation of the performance of AM-fabricated CLSs under uncertainties, will be introduced. Representative examples will be presented to demonstrate the efficacy of the proposed framework for accurately characterizing the elastic properties of CLSs under uncertainties. Finally, the applicability of the framework in designing CLSs under uncertainties without the use of expensive simulations and optimization processes will be demonstrated.
Biograph:
Recep M. Gorguluarslan is currently a postdoctoral researcher in the Department of Mechanical Engineering at Georgia Institute of Technology. He received a Bachelor of Science degree in Mechanical Engineering from the TOBB University of Economics and Technology, Ankara, Turkey, in 2010. He was awarded a Fulbright scholarship for his doctoral studies in the U.S. starting from 2011. He received his Master of Science in 2015 and his Ph.D. in 2016 in Mechanical Engineering from Georgia Institute of Technology. The central theme of his Ph.D. research is the efficient quantification of uncertainties introduced by additive manufacturing in designing lightweight lattice structures. He also worked at Toyota Research Institute North America as a research engineer for two summer semesters during his PhD in the development of a lattice structure design optimization process for additive manufacturing. His research interests include, among the others, additive manufacturing, cellular lattice structures, uncertainty quantification, multiscale modeling, surrogate modeling, and reliability-based design optimization.